Task Force on Community Policing
Charge: 
The Task Force will provide recommendations to enhance public safety and community policing that helps the University of Maryland campus move towards more collaborative and trusting partnerships between our public safety officials and the university community. It will examine community attitudes, experiences and values; policing structures, resources, practices and policies. It will assess and benchmark UMD against peers. The Task Force will pay particular attention to progress or lack thereof in areas related to hate-bias training, racial profiling, and the use of force, including those that result from our partnerships with other law enforcement agencies.
Listening Sessions: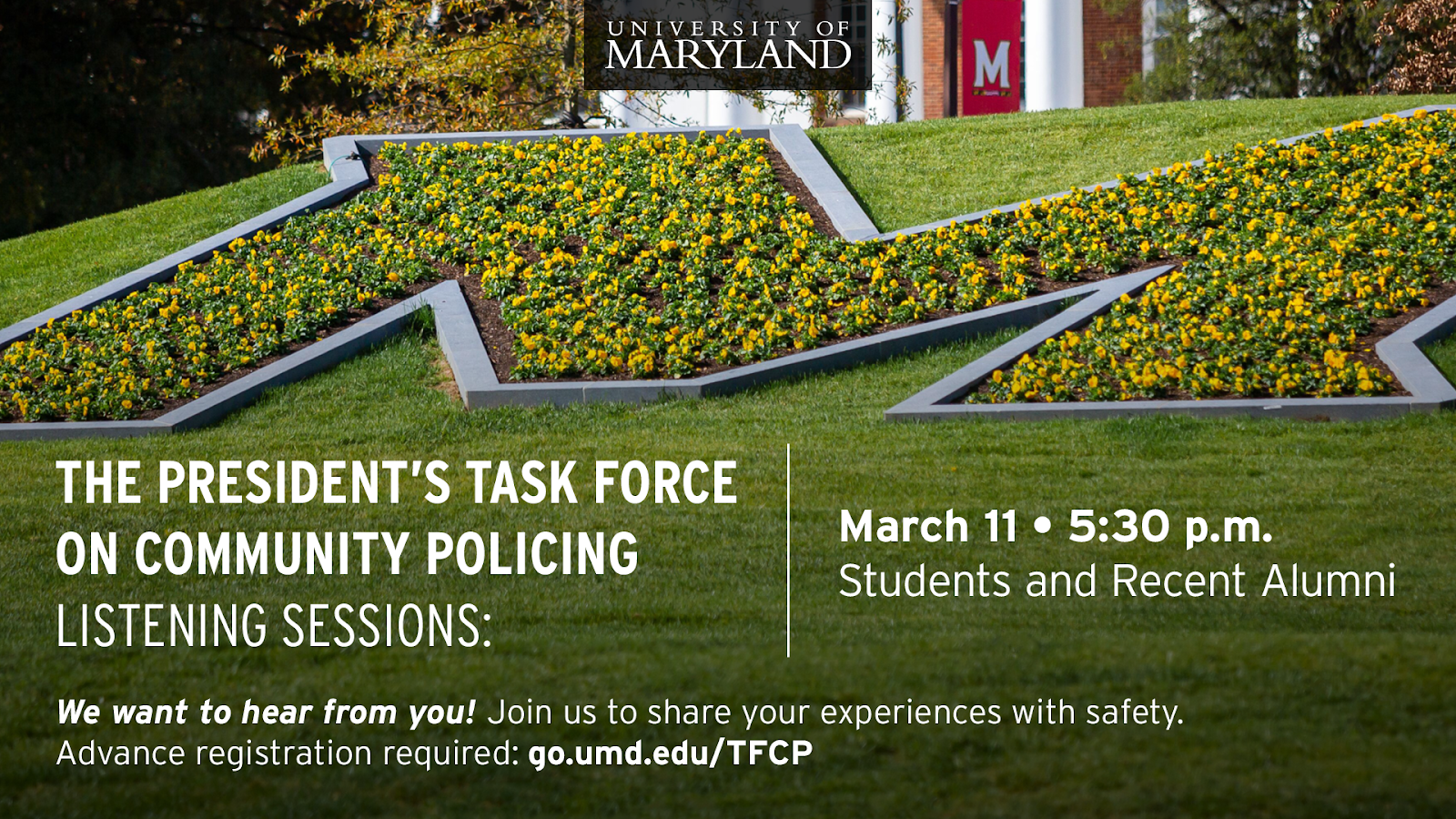 Registration for this event will close at 10:00 a.m. on March 11, 2021. You will receive an email confirming your registration with the Zoom link information by 11:00 a.m. on the 11th.
 
Membership: 
CO-CHAIRS
Gregory Ball
Dean and Professor
College of Behavioral and Social Sciences
Bonnie Thornton Dill
Dean and Professor
College of Arts and Humanities
FACULTY/STAFF/COMMUNITY MEMBERS
Elsa Barkley Brown
Associate Professor, Associate Chair
Department of History
John Brown
President, FOP Lodge 23
Department of Public Safety
Laura Dugan
Senate Chair and Professor
Department of Criminology and Criminal Justice
Shawn Eastman
Adjunct Professor/Lecturer
Department of Criminology and Criminal Justice
David Fields
University Police Officer
Department of Public Safety
Danielle Glaros
Councilmember, District 3
Prince George's County Council
Perla Guerrero
Associate Professor
Department of American Studies & Director of U.S. Latina/o Studies Program
Christina Hanhardt
Associate Professor
Department of American Studies
August Kenner
University Police Officer
Department of Public Safety
Gary LaFree
Professor & Chair
Department of Criminology and Criminal Justice
Peter Leone
Professor 
Department of Counseling, Higher Education and Special Education
Jazz Lewis
Delegate, District 24
Maryland House of Delegates
Kris Marsh
Associate Professor
Department of Sociology
Sushant Ranadive
Assistant Professor
Department of Kinesiology
Tony Randall
Senior Manager
Student Success Initiative
Joseph Richardson, Jr.
Interim Chair and Professor
Department of African American Studies
Terence Sheppard
Director
Board of License Commissioners
Cameron Thurston
Coordinator
Office of Community Engagement
Alexander Williams, Jr.
Executive Director and Founder
Center for Education, Justice and Ethics
Patrick Wojahn
Mayor
City of College Park
UNDERGRADUATE/GRADUATE STUDENT MEMBERS
Dan Alpert
SGA President
Senior, Marketing
Benjamin Baitman
Undergraduate Student
Senior, Government & Politics
Charles Barclay
Graduate Student
Ph.D. program, Philosophy
Dan Laffin
GSG President
Public Policy
Alexandra Marquez
Undergraduate Student
Senior, Journalism
Zaharah Siddiq
President, NAACP-UMCP
Junior, Kinesiology
Rachelle Wakefield
President, Black Student Union
Junior, Public Health Science