Day of Mourning
Each year PCDI hosts the vigil to remember, mourn and celebrate people with disabilities killed by family members or caregivers.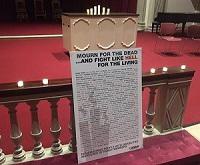 In the past five years, over 650 people with disabilities have been murdered by their parents.
Every year on March 1st, the disability community gathers across the nation to remember disabled victims of filicide–disabled people murdered by their family members or caregivers.
We see the same pattern repeating over and over again. A parent kills their disabled child. The media portrays these murders as justifiable and inevitable due to the "burden" of having a disabled person in the family.
If the parent stands trial, they are given sympathy and comparatively lighter sentences, if they are sentenced at all. The victims are disregarded, blamed for their own murder at the hands of the person they should have been able to trust the most, and ultimately forgotten. And then the cycle repeats
Since 2012, the Autistic Self Advocacy Network (ASAN), and other disability rights organizations have come together at local vigils across the country to mourn those losses, bring awareness to these tragedies, and demand justice and equal protection under the law for all people with disabilities. Visit ASAN's 2023 Anti-Filicide Toolkit webpage to learn about filicide, how to talk about it, how to prevent it, and how to hold a virtual or an in-person vigil.

Last update: January 30, 2023