Wheelchair Tennis Program
About the Wheelchair Tennis
JTCC, a tennis center in College Park, offers free weekly wheelchair tennis clinics on Sundays from 1-3 pm. The clinics are open to people with disabilities of all ages, from beginners to experienced players. Sports wheelchairs and tennis rackets are provided.
Wheelchair tennis has only one difference between its able-bodied counterpart – the tennis ball may bounce up to two times instead of just once. Everything else - the scoring, size of the court, equipment – is the same, and you can play the sport with anyone whether they are playing in a wheelchair or not! The qualification to compete in official competition is a permanent disability that affects mobility at or below the waist. If you do not have a qualifying disability but are still interested in learning more about the sport or volunteering, you are more than welcome to attend!
What is the mission of this program?
The mission of the proposed program is to provide the opportunity to play wheelchair tennis to current UMD students with disabilities. The benefits of sports are far-reaching – sports improve academic performance, positively impact self-image, and provide an excellent way to exercise and be a part of a team. The first goal of the program is to identify a student with a disability who is eligible to compete (a person must have a permanent disability affecting mobility from the waist down) who will help start a club program at UMD. The player can train in the community clinics with other wheelchair tennis players and help identify other students who might be interested in playing. Having one student in the club can qualify a school to compete at the Collegiate National Wheelchair Tennis Championships.
How this program can help students with disabilities?
Adaptive Sports at the collegiate level not only benefit current students but can be a useful tool for the college in recruiting prospective students with disabilities and increasing the number of people with disabilities that are represented on campus. A student's success is not just in the classroom, it is in a well-rounded college experience, and adaptive sports can provide a much-needed forum and community for people with disabilities to feel included in campus culture.
How to join the program?
Come out to JTCC to check out a clinic! We offer an excellent volunteer opportunity for students who are interested in getting involved in wheelchair tennis but don't have a disability that qualifies them for competition within our weekly clinics and during special events at JTCC. Special events at JTCC include the US Tennis Association National All-Comers Wheelchair Tennis Camp July 29-31.
Questions?
Students interested in volunteering can reach out to Gabby Hesse at ghesse@jtcc.org.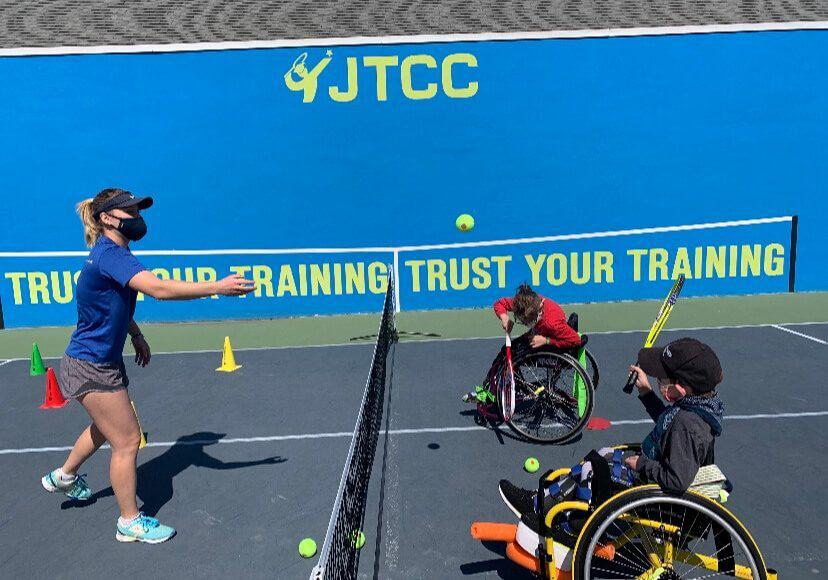 ---
Last update: Mar 17, 2022