RecWell Climbing Wall - Adaptive Climbing Opportunity
RecWell's Climbing Wall values inclusion and is committed to creating spaces that are accessible to all members of the UMD community. To foster a community for underrepresented groups, we are hosting affinity spaces at the climbing wall throughout the spring semester. Affinity spaces can be a place for underrepresented people in a community to come together to feel less isolated and more connected.
No sign-up is required! Participants can simply show up at the Eppley RecWell climbing wall. They should be wearing comfortable clothes and closed-toe shoes.
More details about the event are available from the 2021 news article, UMD Rock Wall Hosts Disability Affinity Space.
Questions? Please contact Meghan Loughry at mloughry@umd.edu.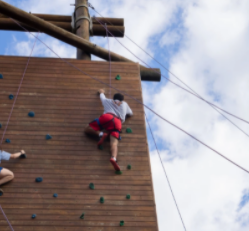 ---
Last update: Mar 17, 2022