2007 Celebration of Women Award Winners
Outstanding Women of the Year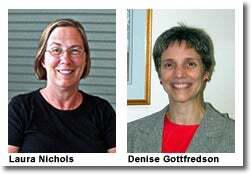 Dr. Denise Gottfredson is a Professor at the University of Maryland Department of Criminal Justice and Criminology. She received a Ph.D. in Social Relations from The Johns Hopkins University, where she specialized in Sociology of Education. D. Gottfredson's research interests include delinquency and delinquency prevention, and particularly the effects of school environments on youth behavior. Much of Gottfredson's career has been devoted to developing effective collaborations between researchers and practitioners. She has worked closely with the Maryland Governor's Office of Crime Control and Prevention in its efforts to promote effective prevention practices in Maryland. Gottfredson has recently completed randomized experiments to test the effectiveness of the Baltimore City Drug Treatment Court and the Strengthening Families Program in Washington D.C. She is currently directing a randomized trial of the effects of structured after-school programming on the development of problem behavior.
Laura Nichols has been with the Department of Women's Studies since 1987. As Assistant Director, she is responsible for advising the undergraduate students in the department. Laura has also received the 2004 Professional Advisor of the Year. She has been a member of the President's Commission on Women's Issues since 1997, serving as chair from 2002-2004. As a member of the Peer Consulting Network for the Center for Leadership and Organizational Change (CLOC) since 1999, Laura organized the campus-wide climate study on Lesbian, Gay, Bisexual, and Transgender (LGBT) issues for university faculty and staff. For this work, she was awarded the 2005 Champion of Our Community award by the LGBT Staff and Faulty Association. She also serves on the Vice-President's Committee on Sexual Assault and Relationship Violence. Laura and her four children have all attended the University of Maryland.

2006-07 Outstanding Women of Color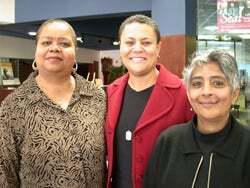 (pictured from left to right)

Dr. Renée Ater is a faculty member in the Department of Art History and Archaeology. Her research and teaching focus is American art of the nineteenth and twentieth centuries with a specialization in African American visual culture. She is the author of Keith Morrison, volume 5 of The David C. Driskell Series of African American Art (2005), and has written essays on Meta Warrick Fuller and Aaron Douglas. She was awarded the 2004/2005 National Endowment for Humanities Fellowship for University Teachers and a 2006 General Research Board Summer Research Award from the Graduate School of the University of Maryland for her manuscript titled Meta Warrick Fuller and the Sculpture of Racial Uplift.
Valencia Skeeter is a native of the Washington, D.C. metro area. She attended Utica College of Syracuse University from 1970 until 1973. Val graduated summa cum laude from the University of Maryland, College Park with a B.S. in Family Studies in December 1996. Val came to work for the University of Maryland in October 1992 in the African American Studies Department after a long career with IBM Corporation. She was initially hired as the department's administrative assistant and later was promoted to the position of Director of Administrative Services. In 1999, she took on additional responsibility as the department's academic advisor. Val is the mother of two adult children and has five grandchildren. She lives in Bowie, Maryland with her husband, Thomas. While she deeply enjoys her work, she loves to read mystery novels, garden, and travel the Caribbean with her husband.
Sivagami Subbaraman currently works as Associate Director, Office of Lesbian, Gay, Bisexual, and Transgender Equity. She has set up several collaborative partnerships with other offices and units to better serve the needs of LGBT students, particularly minority students, and works to increase the visibility and outreach of the Office. She has been at UMD since 2001 when she started with the Office of Human Relations Programs. She has worked with the Intergroup Dialogue Program, the Faculty Relations Committee, and the Ford Foundation-funded INTERACT project. She was responsible for developing and maintaining several websites related to diversity. She is a passionate community activist and volunteers her time with several LGBT organizations. She served on the DC Mayor's Committee on LGBT Affairs and is a member of the National Consortium of Directors of LGBT Resources in Higher Education, and of Incite! Women of Color Against Violence among others.