2002 Celebration of Women Award Winners
Outstanding Woman of Color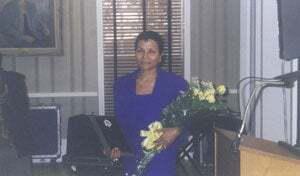 Carmen Balthrop, Associate Professor of music, has exemplified excellence as an internationally acclaimed performer and teacher. During her sixteen-year tenure at the University of Maryland (UM), she has demonstrated commitment to advance the welfare of students of color at the UM, as well as the greater community. Professor Balthrop, who in 1995 was one of the first UM Alumni Hall of Fame inductees, served as a member of UM's Office of Multi-Ethnic Student Education (OMSE) Committee, the David C. Driskell Post Doctorate Fellowship Award for the Study of the African Diaspora, and as a judge for the Poetry Slam celebrating Langston Hughes Centennial during this spring, 2002.
Professor Balthrop mentors and encourages her students to perform music composed by people of color. She has prepared special programs in honor of Black History Month, such as "Songs of Color," in which she included students from the School of Music and incorporated music and poetry of African Americans. Professor Balthorp's students are making valuable contributions in every area of the music world, including teaching, performing, publishing, composing, and recording. In her professional activity, she has starred on Broadway in the title role of Scott Joplin's "Treemonisha," in "Porgy and Bess," and on Canadian Public Television in William Grant Still's "Aurora." In the words of her nominators, Professor Balthorp has pizzazz. Her American Indian and African American heritage, along with her artistry have helped form her as a fabulous performer and teacher.
Outstanding Woman of the Year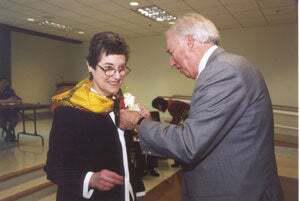 Dr. Ellin K. Scholnick's contributions to the campus in general and to its community of women in particular are legion. She has done much of her academic work in Developmental psychology since she first came to the University in 1967 as an assistant professor. Dr. Scholnick accepted her award with a brief talk on liberal feminism in the university. President Dan Mote presented the award.