2018 Celebration of Women Award Winners
The 2018 Celebration of Women featured a panel discussion celebrating the history of women faculty and staff at the University of Maryland. Panel participants were Dr. Vivian Boyd, Professor Emerita, and Dr. Claire Moses, Professor Emerita.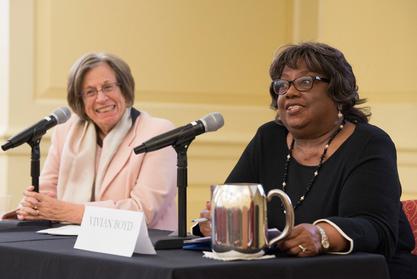 ---
Women of Influence Award Winners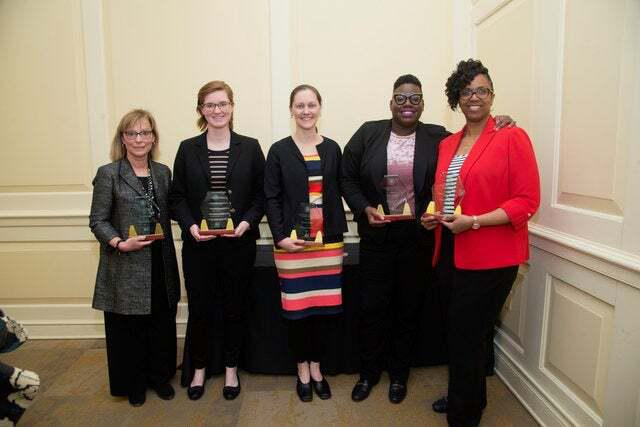 Dr. Nicole Coomber is a Lecturer in the Department of Management and Organization in the Smith School of Business. Dr. Coomber has been an activist and advocate in helping forge policies for D.C. such as paid family leave that help women balance the demand of their careers and family life. She serves as a mentor to young women in her College's Quest Honors program and she created Managing Motherhood, a blog that outlines tools to help parents make better decisions for their families, their careers, and themselves.
Tiffany Gaines Ekwueme is Assistant Director for Housing Partnerships in the Department of Resident Life. She has gone beyond her job description in her response to the death of Lt. Collins. First, she organized a session for staff in Resident Life to meet with staff of the counseling center. She followed up by founding the #Blackgirlsmeet women's group within her unit providing a safe space to gather, share experiences and challenges, and work on career development.
Anna Packy is an undergraduate working towards a dual degree in Mechanical Engineering and Kinesiology whose many contributions to mentoring women include serving as a SEEDS mentor to incoming women engineering students, a program sponsored by the Women in Engineering Program. She is the co-founder and president of Women in Engineering Leadership Development (WIELD), a student organization that focuses on building confidence and leadership skills among women engineering students. Anna also serves as the Director of Outreach for the Society of Women in Engineering (SWE) and represented UMD at the national SWE conference in Austin, TX.
Dr. Chandra Turpen, a research assistant professor in the Physics Education Research Group, has been an active mentor to faculty and graduate students in her department who are new or expecting mothers. She has even offered her office as a lactation site. She has led the creation of dependent care grants for parents of young children attending the American Association of Physics Teachers (AAPT) national conferences. Chandra has also supported graduate students in their fight against sexual harassment and assault by co-leading the effort to establish a "code of conduct" for AAPT conference attendees and the Physics Allies, a group that supports the conference attendees in sustaining an anti-harassment environment.
Timea Webster is Executive Assistant to the Chief Diversity Officer within the Office of Diversity and Inclusion. She is described as "the soul of ODI" because of her activities in maintaining attention to issues of racism and sexism at the core of ODI's mission. She has been especially active in organizing crucial conversations helping students, staff, and faculty during the aftermath of Lt. Collins' tragic death.
Dr. Terry Zacker is Associate Director of the Department of Student Affairs Development and External Relations. Her management of fundraising activities for the Student Union and of the programs directed at veterans and Greek life has been widely recognized on campus. She is the epitome of a superlative mentor. She has gone beyond her job to create Adele's Circle for Women wherein women students and women alumnae share coping strategies and plan events and she has acted as a Court Appointed Special Advocate for women whose experience with abuse and neglect has created the need for guidance in navigating the social service system.