2009 Celebration of Women Award Winners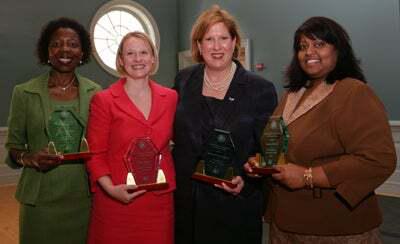 Chandra Bisnath
Outstanding Professional Staff
Bisnath has demonstrated versatility throughout her career as a strong manager, leader and colleague. With a penchant for equality and a strong passion for her family, she has offered great support to everyone she comes in contact with. As a coordinator in the Office of the Vice President for Student Affairs, she is responsible for overseeing the hiring process, supporting two assistant vice presidents, and supervising student employees. Bisnath has been with the division since May 1999.
She earned her undergraduate degree in legal studies from the University of Maryland University College last year and immediately enrolled in the human resources master's program. She serves on the campus Human Relations Committee and co-chairs a number of student affairs committees.
Sacared Bodison
Woman of Color
Bodison has served as director of the University Health Center for the past five years. She started work at the university in 1979 as a staff physician and has held several positions, including coordinator of sports medicine and clinical director. Bodison has mentored many students, as well as taught UNIV 100 students in the University for almost 20 years. She participates on multiple campus committees, enjoys clinical research, and is active in regional and national college health organizations.
She is a board-certified pediatrician with subspecialty training in adolescent medicine. She received her MBA at the Robert H. Smith School of Business. In addition to her professional activities, this mother of two is active in the children's ministries of her church.
Marsha Guenzler-Stevens
Woman of the Year
Marsha A. Guenzler-Stevens serves as the director of activities and associate director of the Adele H. Stamp Student Union Center for Campus Life. She has spent all of her professional career working in the field of higher education in admissions, residential life, campus activities, Greek life, student unions, and leadership development.
Guenzler-Stevens graduated with honors from Illinois Wesleyan University in 1978, having studied biology and political science. She earned a master's degree in personnel services and counseling from Miami University in Ohio and her doctorate at the University of Maryland in higher education policy and planning and administration. Outside of the university, she consults in areas of organizational development, motivation, and management training. She also speaks nationally on such topics as student leadership development, human dignity, and women's leadership.
Lisa Pfeifer
Graduate Student Award
Pfeifer has been active in many campus organizations including the Graduate Student Government and the University Senate. She is part of a National Science Foundation training program in human evolutionary biology, using an interdisciplinary approach to study global variation in hormone receptor genes. Pfeifer hopes that her findings may contribute to improved treatments for disorders such as hypertension, depression, and autism.
She received a bachelor's in the biological basis of behavior from the University of Pennsylvania in 1999. After completing the master of the applied anthropology program at the University of Maryland in 2001, she enrolled in the biology graduate program, where she is now a doctoral candidate.