2011 Celebration of Women Award Winners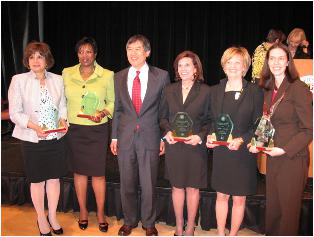 They've counseled hundreds of students and employees on campus, guided returning students back into school life, demonstrated women's importance in higher education, and championed diversity and equity at Maryland.
For these accomplishments, five university women were honored on March 30 during the 2011 Celebration of Women. A program of the President's Commission on Women's Issues, the annual event recognizes graduate students, professional staff, a woman of color, and an outstanding woman of the year.
President Wallace Loh at the reception praised the "women who lead us in the classrooms, labs … and art venues around the campus."
Keynote speaker Christina Lagdameo '98, deputy director of the White House Initiative on Asian American and Pacific Islanders, brought with her proclamations for each honoree from President Barack Obama.
This year's honorees:
Outstanding Graduate Student: Corbin Campbell, a fourth-year doctoral student in the College of Education's higher education administration program;
Outstanding Professional Staff: Barbara Goldberg and Beverly Greenfeig, co-coordinators of the Returning Students Program in the Counseling Center;
Outstanding Woman of Color: Sharon Kirkland-Gordon, director of the Counseling Center;
Outstanding Woman of the Year: Lee Thornton, associate provost for equity and diversity and Eaton Chair in the Philip Merrill College of Journalism.
Remarks from this year's honorees: